Ultra-long, volume eyelashes for max glamour

Want the longest, fullest eyelashes? Our 5D and 7D eyelash extensions give you the top level of density and thickness available for stand-out, gorgeous eyelashes. This isn't for the shy, this is in-your-face eyelash beauty!
After lengthy research and demand for fuller eyelash extensions, Divas has created their own range of silk and mink volume eyelash extensions. Light-weight, and natural looking, our volume eyelash extensions are perfect for eye-opening gorgeousness or to put the spotlight on your best feature.
Our precision technician follows your natural eye contour and attaches multiple lighter lash extensions to the base of your natural lashes. Our ultra-flared, wispy, and curled lash extensions give you a more natural, fuller look, as well as adding significant volume and length to your eyelashes.
No need for mascara, this is natural, max glamour.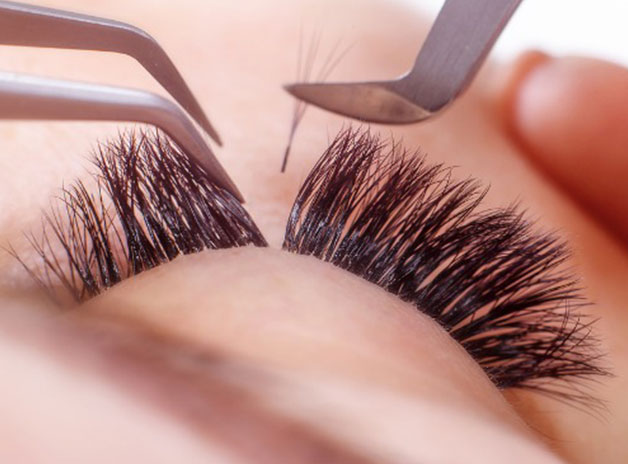 What are volume eyelash extensions?

Our eyelash technician will adhere our Divas branded silk and mink eyelashes to the base of your natural eyelash using a clear, medical grade adhesive.
You can choose the curl, length and thickness of your eyelash extension to create your dramatic look.
How long do eyelash extensions last?

Eyelash extensions areconsidered semi-permanent. Depending on your natural lash growth cycle and proper care for your extension, they can last anywherebetween 4 to 6 weeks.
To preserve the fuller lash look, infills are recommended every two weeks.
How do I maintain my eyelash extensions?

If you look after your eyelash extensions and treat them with care, they will last longer.
Try not to touch your eyelashes, especially within the first 24 hours of your extension treatment, until the adhesive has set. Keep water away from your eyelash extensions for 24 hours after the treatment.
Try to keep oil, grease and makeup away from your eyelashes and clean them with a soft, gentle cleanser, a few times a week.
Use our Eyelash Extensions Coating Serum products to care and nurture your eyelash extensions for long-lasting volume. Specially formulated with nourishing ingredients, the serum acts in two ways – it builds a bond between your natural lashes and your extensions to prolong their life and secondly, acts as a sealant to the extensions to protect from water, grease and makeup.
Are eyelash extensions safe?

Yes. We use high-quality, natural silk and mink lashes and purpose-made medical grade adhesive.
The process does not damage your natural eyelashes.

Please visit Our Gallery to have a look at our beautiful collection of eyelash extensions created by our experienced and professional technicians.
Customize the curl, length and thickness of your eyelash extensions to change the look of your natural eyelashes.
Got a question about eyelash extensions? We would love to hear from you. Please call our beauty salon on 1300 111 786 to speak with an experienced technician, or to book an appointment.