Add colour, volume, and emphasis to your faded, patchy or thin eyebrows. Using a feathering or ombre technique, eyebrow microblading is a permanent procedure to shape, build and fill your eyebrows to get the look you want.
The feathering technique of eyebrow microblading simulates the look and strokes of your natural brow hair. Your new feather-like brows will appear soft and even for natural, more voluminous eyebrows. Our technicians can enhance or change the shape of your eyebrows, helping to lift droopy eyelids for a more youthful appearance.
Our eyebrow powdering or ombre' technique delicately fills in your eyebrows to create a soft, dewy look to your brows. It defines and adds colour to fine eyebrows to frame your eyes for a fresher, younger look. No need to put powder on your eyebrows every day!
Permanent eyebrow perfection, effortlessly.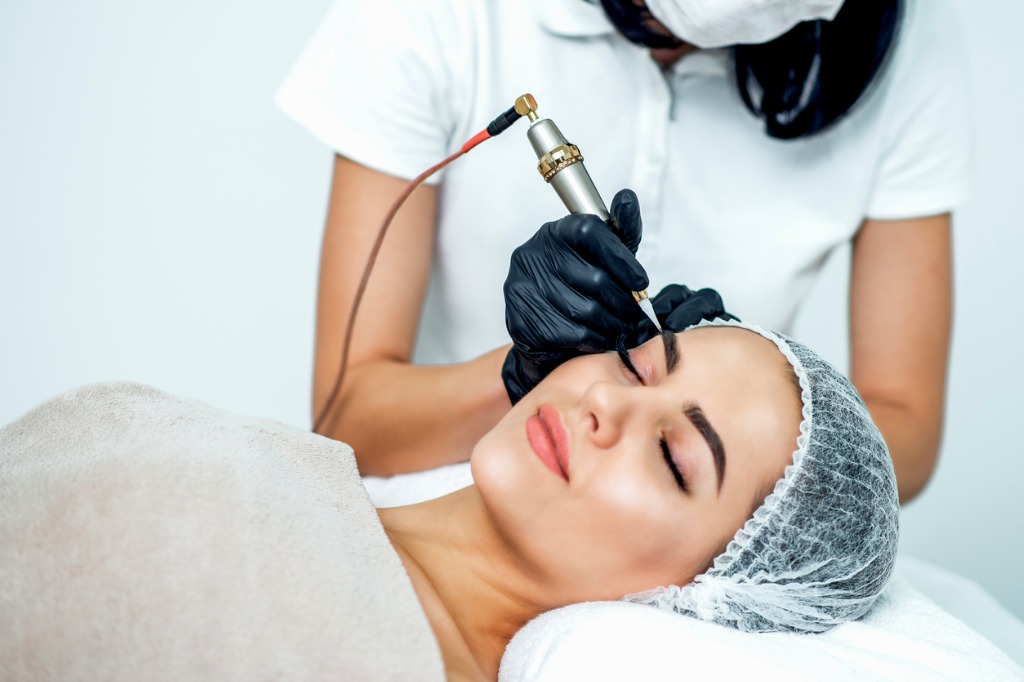 What is Eyebrow Microblading?

Our Divas technicians are experienced in eyebrow microblading and powdering.
During the feathering procedure, our Divas technician uses a flat-edged hand tool to apply the pigment in realistic looking hair strokes across your browline. This gives the appearance of thicker and fuller eyebrows naturally.
Eyebrow feathering or ombre, uses a pen-like device to draw tiny dots with pigment along your browline, to achieve a softer, fuller looking, non-solid brow.
We can use a combination of these two techniques to achieve a natural eyebrow. Our pigments come in a wide range of colours, to achieve the perfect shade to match your brows and skin colour.
There is no need for eyebrow makeup to achieve eyebrow lushness.
What is involved in the microblading procedure?

Our technicians will firstly, discuss theeyebrow shape and look you are wanting to achieve.
This procedure takes approximately one and a half hours.
How long does eyebrow microblading last?

On most skin types and depending on your skin elasticity, it lasts for more than one year.
What is the aftercare for eyebrow microblading?

During the 5 days after your procedure, keep your eyebrows dry and makeup free. Do not let water get onto your eyebrows.
The healing period will vary, depending on your skin type. During healing, if your eyebrows become itchy or dry, gently apply a little Vaseline with clean, disposable gloves(do not use your fingers as you may infect the area).
Some may experience a clear liquid secretion. This is normal during the healing process. If this occurs, very gently tap dry with a clean tissue and do not touch with your fingers.
Ready for perfect, gorgeous natural brows without the fuss of makeup? Please call our beauty salon on 1300 111 786 to speak with an experienced technician, or to book an appointmentat one of our 7 beauty salons around Sydney.